Global Health/Global Beats
In early May, I got a Facebook message from Dr. Rita Issa, a member of Doctors for Extinction Rebellion and my fellow student at the London School for Hygiene and Tropical Medicine. Dr. Issa told me her friend runs a radio show and asked if I'd be willing to have an on-air chat about One Health.
Sure, I said, why not?
That led me to Dr. Nicola Stokes, an emergency medicine doctor in the United Kingdom's National Health Service. When she's not saving lives, Dr. Stokes hosts a Soho radio show called Global Health/Global Beats, where she mixes interviews with wide-ranging world music.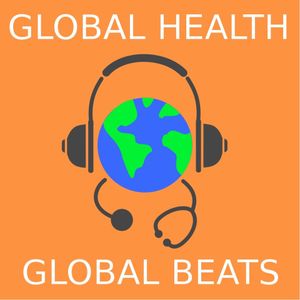 For this episode, Dr. Stokes interviewed me and Dr. Giles Dawnay, general practitioner and author in the UK (on Twitter at
@gilesdawnay
). We had a few COVID-inspired difficulties, like when a float plane landed nearby and its engine roar took over my microphone. (This is when I was temporarily living on a boat after moving back to Seattle... but that's a story for another post.) In the end, we got the thing recorded! Between boppin' musical interludes, we talked about coronaviruses, climate change, zoonotic spillover, antibiotic resistance, meat production, planetary health and poetry.
Have a listen here:
As you listen, let me direct your attention to the song "Clipo Clipo" from "Our Garden Needs Its Flowers," a 1985 album by Jess Sah Bi and Peter One of Côte d'Ivoire, which Nicola introduces around minute 22. Nicola says, "The album was quite striking at the time because it was in contrast with the heaving funk, disco and reggae sounds of the day, whereas the album 'Our Garden Needs Its Flowers' was a lush kind of fusion of traditional village songs and American and English country and folk-rock music. They deliver these beautifully-harmonized meditations about social injustice and inequality."
What an honor to be featured along such talented musicians and music-listeners! It wouldn't have occurred to me to weave microbial science with world music, but now that I've heard it, I think it's exactly what I needed.
You can follow Global Health/Global Beats on Twitter at
@nicola_stoke
, and search "Global Health/Global Beats" on
MixCloud
for more episodes.
If you want to keep bathing your ears in gorgeous global beats after you listen to the Podcast, head to the Global Health/Global Beats
Spotify
playlist for the featured songs.